Federal court slams Trump administration's climate denial.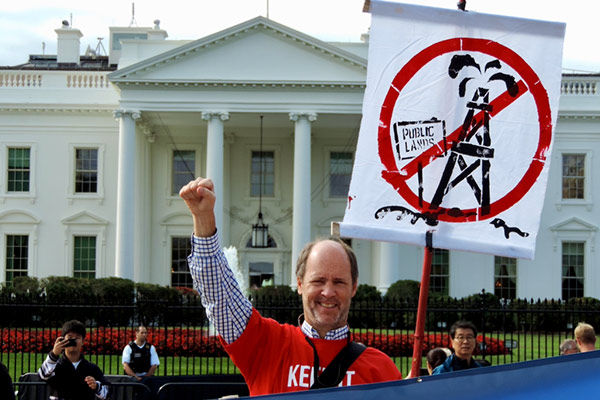 Judge upholds climate, rejects public lands fracking
New hope for climate with President-elect Biden
Dear Guardian,
This is your win, which is why I can't thank you enough for your support!
Late last week, WildEarth Guardians and our partners at the Western Environmental Law Center and Physicians for Social Responsibility scored ANOTHER landmark court victory for our climate and public lands.
In a resounding rebuke to President Trump, a federal judge rejected the U.S. Department of the Interior's sale of hundreds of thousands of acres of public lands for fracking in the American West.
The reason? Climate.
More specifically, the court held the Interior Department's Bureau of Land Management violated federal law by ignoring the climate consequences of selling 475 square miles of public lands for fracking. It was the second time the judge had ruled against the Bureau in this case and it confirmed, again, that the Trump administration's sale of public lands for fracking isn't just contrary to science, but contrary to law.
With President Trump on his way out and President-elect Biden coming in, this win couldn't have come at a more critical moment. Joe Biden has promised to ban the sale of public lands for fracking and this court ruling gives him the backing to make good on this commitment.
In 2016, WildEarth Guardians—including our Executive Director, John Horning, pictured above— showed up at the White House to demand climate action and an end to fossil fuel extraction on public lands.
It's been four years of non-stop defense since then, but we've persevered. Now, finally, victory is at hand. The fight's not over, but this is cause for celebration, especially as the promise of a new administration is upon us.
It's your support that enabled us to effectively build the record that allowed us to file this lawsuit in the first place. And it's your generous financial contributions that enabled our attorneys to spend countless hours poring over thousands of documents and writing the winning briefs.
Your continued support will give us the tools and resources to continue turning the tide against climate denial and attempts to sacrifice public lands for fracking.
For the Wild,

Jeremy Nichols, Climate & Energy Program Director
Share this message with friends and family
WildEarth Guardians protects and restores the wildlife, wild places, wild rivers, and health of the American West.
photo credit: WildEarth Guardians