Join WildEarth Guardians and Green Alpha Advisors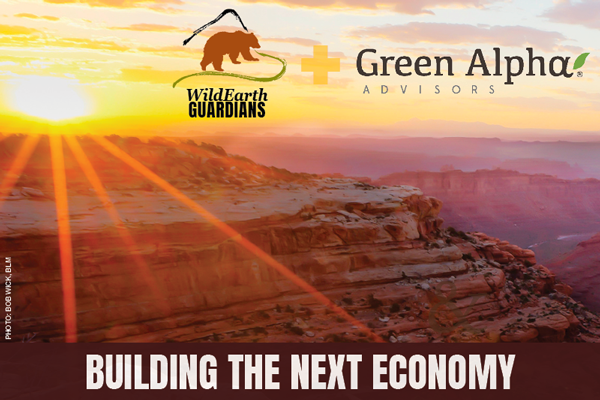 Bolder Climate Solutions Together
Dear Guardian,
Have you ever considered that your investments can meet your financial goals and drive progress toward combatting climate change? Do you believe in the need for bold legal and advocacy strategies to drive aggressive climate policy? If so, join Green Alpha Advisors and WildEarth Guardians for an evening discussion about aligning your financial and philanthropic investments.
Since 1989 WildEarth Guardians has led efforts to protect and restore the wild places, wildlife, rivers, and health of the American West, and today, leads efforts to lock down public carbon and advance a 100% renewable energy future.
Green Alpha Advisors is redefining asset management by investing in innovative solutions to our most pressing global risks. By investing in forward-thinking economic leaders, Green Alpha offers an unmatched opportunity to grow your portfolio alongside the evolving post-carbon economy.
Come learn about Green Alpha Advisors' solutions-driven approach to public equity investing and WildEarth Guardians' bold climate campaigns. Align and leverage your financial investments and philanthropic assets to aggressively respond to the climate crisis and expedite the transition to a new, cleaner economy.
Event Details
April 17, 2018, 5:30 p.m. to 7:15 p.m.
The Alliance Center
Hub Café
1526 Wynkoop Street
Denver, CO 80202
Drinks and light refreshments will be served. Please RSVP to Kevin Gaither-Banchoff at kevin@wildearthguardians.org, or call 520-869-4673. Please let us know if you have any questions!
John Horning
Executive Director
WildEarth Guardians

Garvin Jabusch
Chief Investment Officer
Green Alpha Advisors
WildEarth Guardians protects and restores the wildlife, wild places, wild rivers, and health of the American West.
photo credit: Bob Wick, BLM