Signup for our emails
Login

Judi Brawer | Madeleine Carey | Bethany Cotton | Greg Dyson | Rebecca Fischer | Marla Fox | Laurele Fulkerson | Kevin Gaither-Banchoff | Annaliza Herrera | John Horning | Shannon Hughes | Taylor Jones | Chris Krupp | Dave Levine | Kristin Decker Levy | Michelle Lute | Jim Matison | Sarah McMillan | Caitlin Muret | Jeremy Nichols | Kelly Nokes | Carol Norton | Jen Pelz | Samantha Ruscavage-Barz | Sara Samovalov | Chris Smith | Rebecca Sobel | Jodie Wheeler | Marlies Wierenga | Stuart Wilcox
Judi Brawer, Wild Places Program Director, Boise, ID
Judi Brawer joined WildEarth Guardians as the Wild Places Program Director in May, 2018. She's lived and worked in many places, including New Jersey, Vermont, Wisconsin, California, Colorado, Washington D.C., Montana, Bordeaux, France and Cote d'Ivoire. She finally settled in Boise, Idaho, where she's been for 18 years. Judi has a J.D. from Vermont Law School and a B.A. in International Relations from the University of Colorado, Boulder. She has spent most of the last 20+ years working for and with non-profit conservation groups, including American Wildlands in Bozeman, Montana, and then as a staff attorney for Advocates for the West in Boise. She then opened a solo law practice where she represented a variety of organizations in land-use and public lands cases. She's also dabbled in sales, marketing, social media, and personal training. Recently, she worked with Global Talent Idaho to help skilled refugees reclaim their careers and does pro-bono work helping refugees become U.S. citizens. In her spare time, Judi teaches a rockin' early morning spin class, and loves to hike with her dog, Dobby, mountain and road bike, ski, backpack, camp, and to just be outside listening to birds and hoping to see something wild. Email Judi at: "jbrawer 'at' wildearthguardians 'dot' org" or call: 208-871-0596.
Madeleine Carey, Greater Gila Guardian, Santa Fe, NM
Madeleine Carey is the WildEarth Guardians' Greater Gila Guardian. Born and raised in Albuquerque, Madeleine spent her childhood exploring the Rio Grande and its bosque on foot and on horseback. In May 2014, she graduated from Tufts University in Medford, MA with a degree in Biology and Urban Studies. While at Tufts, she was a four-year member of the Track and Cross Country teams and a trip leader for the Tufts Wilderness Orientation program. During college, Madeleine spent her summers working for the Bosque Ecosystem Monitoring Program, researching American Pika in the Valles Caldera National Preserve and working with NM State Forestry to create a post-wildfire assistance guide. An avid runner and pie baker, Madeleine is always looking for ways to combine adventures with brunch. Read Madeleine's Staff Origin Story "My Birthday Wolf". Email Madeleine at: "mcarey 'at' wildearthguardians 'dot' org" or call: 505.660.0161.
Bethany Cotton, J.D., Wildlife Program Director, Missoula, MT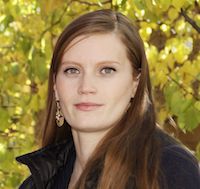 Bethany Cotton's environmental ethic was born in and nurtured by her childhood stomping grounds in the mountains outside of Ashland, Oregon. She holds a J.D. and certificate in Environmental and Natural Resource Law with an emphasis in Animal Law from Lewis & Clark Law School, and a B.A. in Environmental Studies, Political Science and Latin American Studies. She joined Guardians as Wildlife Program Director in spring 2013. Her advocacy background includes working for Greenpeace fighting coal export proposals in the western U.S, as a staff attorney at the Center for Biological Diversity, and as a litigation fellow at the Pacific Environmental Advocacy Center (now EarthRise Law Center). Her community involvement includes sitting on the board of EarthTeach Forest Park. In her spare time, Bethany loves to be on her bike, look for rare critters and plants, grow things, practice yoga, hike, swim and experiment in her vegan kitchen. Read Bethany's Staff Origin Story "Welcoming Wolves Home". Email Bethany at: "bcotton 'at' wildearthguardians 'dot' org" or call: 503.327.4923.
Greg Dyson, J.D., Bighorn Sheep Guardian, New Mexico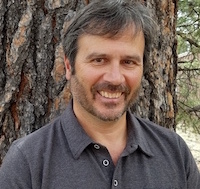 Greg was on Guardians staff – most recently as Wild Places Program Director – from 2014-18. He now contracts with Guardians to advocate for the protection of bighorn sheep. He got his start as an environmental advocate in Portland, Oregon, where he founded the group BARK after discovering old-growth clearcuts along the Pacific Crest Trail on Mt. Hood. Drawn to the beauty of Hells Canyon and the Wallowas in NE Oregon, he later ran Hells Canyon Preservation Council. More recently, he was Executive Director at High Country Conservation Advocates in Crested Butte, Colorado. He has a J.D. from the University of Cincinnati, and in the distant past worked as a criminal defense attorney in Portland. He now lives in the beautiful Zuni Mountains of western New Mexico. Email Greg at: "gdyson 'at' wildearthguardians 'dot' org" or call: 503.730.9242.
Rebecca Fischer, J.D., Climate Guardian, Denver, CO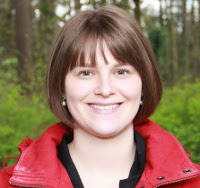 Becca Fischer joined WildEarth Guardians as a Climate Guardian in 2017. Her mission is to keep oil and gas in the ground to protect the climate. Becca grew up in Billings, Montana on the edge of Great Plains, and the beauty of the Big Sky state shaped her love of the environment and all types of landscapes. She received her B.A. in environmental science from Willamette University in Salem, Oregon but returned to Montana to work as an organizer for Northern Plains Resource Council following college. After five years as an organizer, she switched her focus to the law and obtained her J.D. at Lewis & Clark Law School in Portland, OR with a certificate in Environment and Natural Resources. She then worked as a judicial clerk at the Anchorage Superior Court in Alaska and encountered many moose before returning to the lower 48. In her free time, she enjoys all things involving water including triathlons, swimming, cliff jumping, and floating. She lives in the Denver area with her husband and orange tabby. Email Becca at: "rfischer 'at' wildearthguardians 'dot" org or call 406.698.1489.
Marla Fox, J.D., Rewilding Attorney, Portland, OR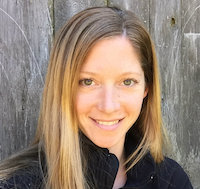 Marla Fox joined WildEarth Guardians in 2015 as the Rewilding Attorney. Her work focuses on developing strategic legal advocacy to reclaim places for the wild and reconnect wildlife habitat and waterways across the American West. Originally from Minnesota, Marla spent her informative years swimming and fishing at the lake up north. She received her B.A. in Spanish and Biology from St. Olaf College in 2006 and her J.D. from Lewis and Clark Law School in 2012. Marla worked as a legal intern with Earthjustice's California office and Earthrise Law Center. Before joining Guardians, she got her legal feet wet as Legal Fellow (and later Staff Attorney) for the Northwest Environmental Defense Center. Marla likes to spend her free time exploring the west on backpacking trips, running, and gardening. Email Marla at: "mfox 'at' wildearthguardians 'dot' org'" or call 651.434.7737.
Laurele Fulkerson, J.D., Grants Manager, Portland, OR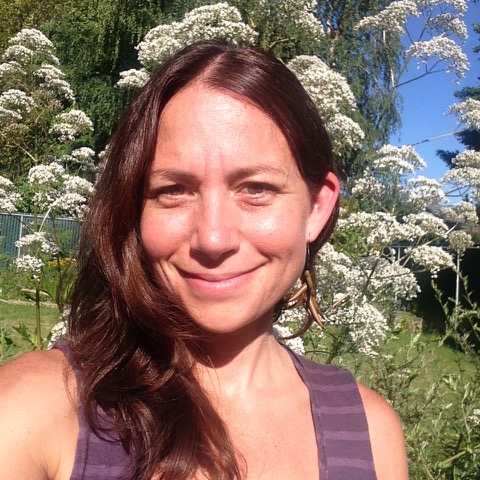 Laurele Fulkerson joined WildEarth Guardians in June 2016 and is our Grants Manager. A California native, Laurele grew up swimming in the ocean off the Southern California coast, hiking and backpacking in the Sierras, and getting in the outdoors at every opportunity possible. She developed a passion for protecting wildlife and wild places at an early age, which ultimately led her to the Pacific Northwest. She holds a J.D. and Certificate in Environmental and Natural Resources Law from Lewis & Clark Law School, and a B.A. in Political Science from U.C. Santa Barbara. Laurele has over a decade of experience in nonprofit management and environmental law and policy, bringing a unique combination of fundraising and program experience to Guardians. She has worked on a wide array of public lands, water, and wildlife issues, most recently as Policy Director for the Gifford Pinchot Task Force. Prior to that, Laurele directed the Northwest Center for Alternatives to Pesticides' water and wildlife program. Email Laurele at "lfulkerson 'at' wildearthguardians 'dot' org" or call: 503.728.8413.
Kevin Gaither-Banchoff, Development Director, Tucson, AZ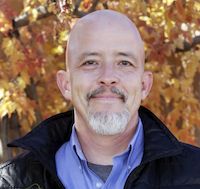 Kevin Gaither-Banchoff joined WildEarth Guardians in 2010 as our Development Director. Kevin moved to the southwest in late 1994 and has worked ever since to protect its biodiversity and wild nature. He has served as Development Director for both Native Seeds/Search and The Wildlands Project, worked as a fundraising and organizational development consultant for numerous local and regional conservation non-profits, and spent four years working as Executive Director for the Arizona Wilderness Coalition. Kevin enjoys sharing his vision for a healthy and vibrant western landscape with his family and friends, and the many wild critters that make this same land their home. Kevin lives in Tucson with his wife Kelli and two girls Abby and Allie, loves to camp, hike, garden and just be outdoors. Kevin has been a member of the Association of Fundraising Professionals since 1996. Email Kevin at: "kevin 'at' wildearthguardians 'dot' org" or call: 520.869.4673.
Annaliza Herrera, Digital Content Coordinator, Santa Fe, NM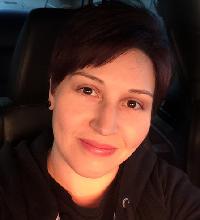 Annaliza Herrera started her career in the nonprofit sector in 2014. A native of northern New Mexico, Annaliza has a great love for the culture and beauty that she grew up with in the Española Valley. Annaliza earned her B.A. in Theater from the University of New Mexico after returning home from Los Angeles, where she did conservatory training at The American Academy of Dramatic Arts - West. Before joining WildEarth Guardians, she was the administrative services associate for the Santa Fe Community Foundation. Prior to that, she spent a brief stint as a pastry chef after earning a patissier certificate from Santa Fe Community College. Annaliza serves on the board of directors for Theater Grottesco, a Santa Fe-based theater company focused on creating new and daring performances. She enjoys creative writing, spending time with her cat, and traveling. Email Annaliza at: "aherrera 'at' wildearthguardians 'dot' org" or call: 505.699.9112.
John Horning, Executive Director, Santa Fe, NM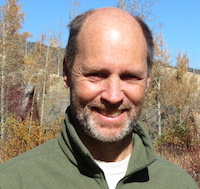 John Horning was born and raised in Washington, DC and grew up on a street that bordered Rock Creek Park, one of the wildest urban parks in our country, where he cultivated an appreciation for the solace of wild spaces. He fondly recalls a childhood searching for salamanders, hearing Pileated wood peckers and watching fire flies light up summer evenings. Mr. Horning graduated in1989 from Colorado College, where he not only played football for four years (becoming the offense's MVP his senior year) but also first developed a life-long appreciation for Wallace Stegner, the writer and the man. After biking around the country and then working for a variety of environmental education and advocacy groups he moved to New Mexico in 1994 to join the staff of what would later become WildEarth Guardians. He feels privileged to be a voice for the voiceless. Read John's Staff Origin Story "Saving Spotted Owls and Ancient Forests". Email John at: "jhorning 'at' wildearthguardians 'dot' org" or call: 505.819.5917.
Shannon Hughes, J.D./LL.M., Climate Guardian, Denver, CO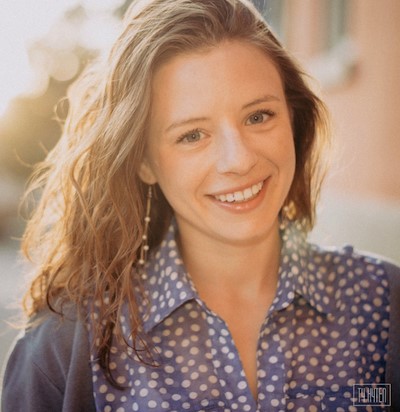 Shannon Hughes is a Climate Guardian working to keep coal in the ground under the Climate and Energy Program. Shannon grew up in Chicago, but her parents fostered in her a love for wild places in the West by taking trips to Zion, Bryce, the Grand Canyon, and the Rocky Mountains. She attended Indiana University and after graduation, moved to Chicago where she worked in private law. Shannon moved to Denver in 2013 to attend the University of Denver's Sturm College of Law. There, she worked in the Environmental Law Clinic on behalf of Navajo Non-Profits against federal agencies for their roles in managing a polluting coal-fired power plant. When not confronting coal production and consumption, Shannon enjoys running, hiking with friends, trying out new vegan recipes, and going to concerts. You can reach Shannon by email at "shughes 'at' wildearthguardians 'dot' org" or call 630.699.7165. You can also follow Shannon on Twitter at @ShannonHughes77.
Taylor Jones, M.S., Endangered Species Advocate, Denver, CO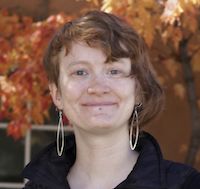 Taylor Jones joined WildEarth Guardians in 2010 as our Endangered Species Advocate. She received an M. Sc. in Conservation Biology and Sustainable Development from the University of Wisconsin-Madison in 2010, where she was a member of the Carnivore Coexistence Lab. Before entering graduate school, she did a variety of conservation work in New Mexico and Colorado, including prairie dog relocation and riparian area surveys. She has been fascinated by animals great and small her whole life, from a childhood spent watching ants to a Master's thesis on the Andean bear. She intends to apply one of the Bodhisattva vows to her work with endangered species: "Beings are numberless; I vow to save them all." She also holds an undergraduate degree in visual arts from Brown University, where she originally decided to dedicate herself to preserving the natural world that continues to inspire her paintings. Taylor leads WildEarth Guardians' Protecting the Prairie Dog Empire priority campaign. Read Taylor's Staff Origin Story "The Strange, the Small, and the Ugly". Email Taylor at: "tjones 'at' wildearthguardians 'dot' org" or call: 720.443.2615. You can also follow Taylor Jones on Twitter @pdogs4ever.
Chris Krupp, J.D., Public Lands Guardian, Seattle, WA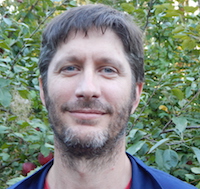 Chris joined WildEarth Guardians in September, 2106 as our Public Lands Guardian. He will lead our Keep Public Lands in Public Hands campaign. His work will focus on preventing our commons from being treated as a commodity by those seeking to privatize the nation's public lands via numerous schemes, including Congressional and administrative land trades and conveyances. Chris grew up playing in the fields and woods of his grandparents' dairy farms in central Wisconsin. He received his J.D. from the University of Washington and his B.A. in Economics from Lawrence University. Prior to joining us, Chris was staff attorney for Western Lands Project for fifteen years. He enjoys camping and hiking with his family, as well as vegetable gardening and cooking. Email Chris at: "ckrupp 'at' wildearthguardians 'dot' org" or call: 206.417.6363.
Dave Levine, Communications Director, Denver, CO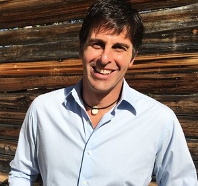 Dave Levine is WildEarth Guardians' Communications Director. His personal passion is wild places. His professional passion is telling stories to change the world for the better. A psychology degree (and undergraduate and graduate work in earth and environmental science) from Wesleyan University and a mediation certification from the University of New Mexico Law School laid the foundation for intimately understanding people and what motivates them. Dave's nearly 20 years of professional experience creating communications for nonprofits, business-to-business and consumer clients nationwide means he excels at creating powerful brand experiences that move people. As a Guardian, he feels tremendously honored to integrate his lifelong passion and reverence for wild places with his professional experience to help protect and restore those ecosystems for generations to come. Out of the office, you may not actually see him, but his footprints and ski tracks lead to some of Colorado's most rugged and remote wild places. Email Dave at: "dlevine 'at' wildearthguardians 'dot' org" or call: 303.917.7125.
Kristin Decker Levy , Bookkeeper and Assistant to the Senior Accountant, Santa Fe, NM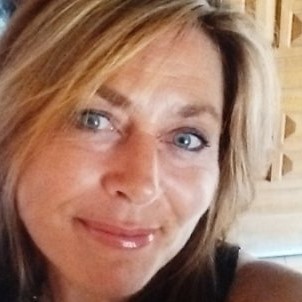 Kristin Decker Levy joined the WildEarth Guardian's Finance Team as the Bookkeeper and Assistant to the Senior Accountant in the Fall of 2017. Kristin brings twenty years of Office Management and Bookkeeping to Guardian's and has spent the last seven years working for a non for profit for Youth, Music and the Arts. Highlights of her prior experience include work in the Los Angeles Music and Film Industry working with David Geffen and DGC Records. Kristin has enjoyed working in public relations, marketing/sales and customer relations for small Web Design Companies in the nineties of which one was co-owned and operated by herself and husband. Email Kristin at: "kdeckerlevy 'at' wildearthguardians 'dot' org" or call: 505.819.5911.
Michelle Lute, Wildlife Coexistence Campaigner, Missoula, MT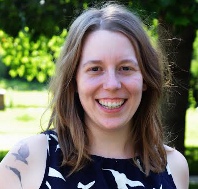 Michelle Lute joined WildEarth Guardians as Wildlife Coexistence Campaigner in
August 2016, bringing a passion for promoting human-wildlife coexistence through effective grassroots organization, equitable participatory processes and evidence-based decision-making. Her work has spanned issues from water to wolves, on public and private lands, from Madagascar to Michigan. She started her environmental career in habitat restoration for the National Park Service and holds degrees from Valparaiso University (BS environmental science), University of Notre Dame (MS animal behavior and ecology) and Michigan State University (PhD human dimensions of wildlife management). While her primary identity is that of a Guardian, she also identifies as a dog person, globetrotter, photographer and urban farmer. Email Michelle at: "mlute 'at' wildearthguardians 'dot' org" or call: 406.848.4910.
Jim Matison, Restoration Director, Santa Fe, NM and Boulder, CO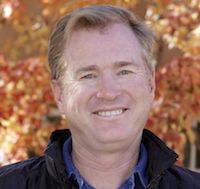 Jim Matison joined WildEarth Guardians in 2002 and is the Restoration Director. Jim leads efforts to restore riparian/wetland ecosystems with hands-on habitat restoration projects on private, public, and state school trust lands. He also directs the organization's restoration projects on national forests, which entail closing roads as a means to restore forest ecosystems. Jim holds a degree from the University of Arizona. Read Jim's Staff Origin Story "The Power of Trees". Email Jim at: "jmatison 'at' wildearthguardians 'dot' org" or call: 505.795.1131.
Sarah McMillan, J.D., Conservation Director, Missoula, MT
Sarah McMillan grew up reading Ed Abbey by kerosene lamp at night and exploring the woods, rivers, and mountains of Montana and western Washington by day. She received her B.A. from Williams College and her J.D. from the University of Montana. Sarah is an avid hiker, locavore wannabe (notable downfalls include olive oil, licorice, Marmite, and black tea), and life-long environmentalist. She has worked in private practice and with Western Environmental Law Center to protect the natural world. Her litigation background is broad—from the ESA, CWA, NEPA, NFMA, etc. to protecting Montanans right to a clean and healthful environment, to defending a citizen's initiative that effectively stopped game farm "hunting" in Montana. Read Sarah's Staff Origin Story "The Wild Heals". Email Sarah at: "smcmillan 'at' wildearthguardians 'dot' org" or call: 406.549.3895.
Caitlin Muret, Membership Manager, Portland, OR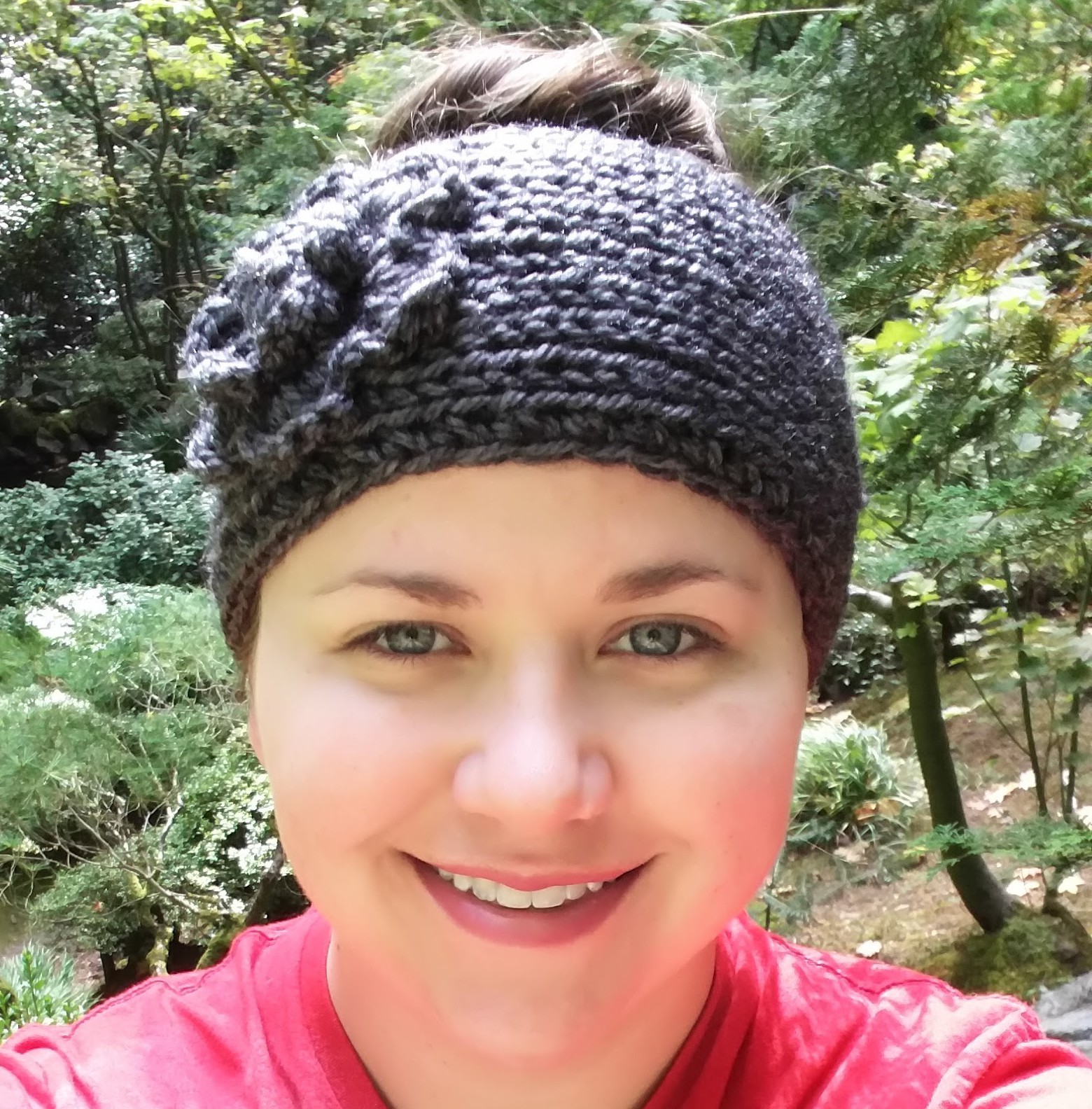 Caitlin Muret joined WildEarth Guardians as Membership Manager in April 2017. Born and raised in southern Kansas, Caitlin spent most of her time outside. Her favorite childhood memories are of playing in the small creeks that meander through her home county. She graduated from Kansas State University with BAs in English and Mass Communciations and spent the first part of her career at museums. She moved to Portland, OR to follow her dream of working for an organization that protects wildlife and wild places. Caitlin currently volunteers as a Crew Leader for Friends of Trees, teaching Oregonians about the importance of planting native species to restore natural areas, especially watersheds. Her favorite place to spend her free time is outside in a hammock, reading a book with her schnoodle and listening to the birds sing. Email Caitlin at: "cmuret 'at' wildearthguardians 'dot' org" or call: 505.819.1060.
Jeremy Nichols, Climate and Energy Program Director, Golden, CO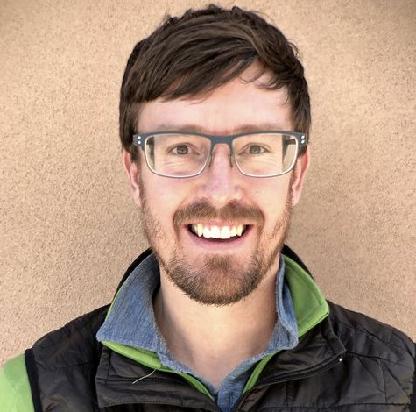 Jeremy Nichols joined WildEarth Guardians in 2008 as the Director of the Climate and Energy Program, taking action to fight fossil fuels, promote clean energy, slash greenhouse gases, and develop innovative strategies to safeguard the climate and the American West. Jeremy has been active in conservation advocacy since 2000, when he first started working with Biodiversity Conservation Alliance to protect forests, grasslands, and imperiled species in Wyoming and the Black Hills of South Dakota. In 2006, he founded and led Rocky Mountain Clean Air Action, a nonprofit that successfully held polluters, states, and the Environmental Protection Agency accountable to our clean air laws throughout the Rocky Mountain region. A native Idahoan, Jeremy made his way to the Rocky Mountain west to study geology at the University of Wyoming. He now lives in Golden with his family. Read Jeremy's Staff Origin Story "My Call to Action". Email Jeremy at: "jnichols 'at' wildearthguardians 'dot' org" or call: 303.437.7663. You can also follow Jeremy on Twitter at @ClimateWest.
Kelly Nokes, J.D., Transparency Staff Attorney, Denver, CO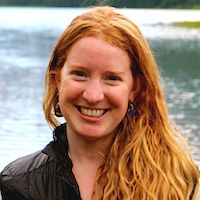 Kelly Nokes joined WildEarth Guardians as Carnivore Advocate in June 2015 and became Guardians' Transparency Staff Attorney in September 2017. She holds a J.D. and Masters of Environmental Law and Policy from Vermont Law School and a B.S. in Environmental Conservation and Outdoor Recreation Leadership & Management from Northern Michigan University. She is a barred attorney in the State of Montana. Kelly has been an active advocate for wild creatures and wild places throughout her career. She previously served as a legal intern with Western Environmental Law Center and Trustees for Alaska and came to the Guardians with a strong background in environmental education and program administration from her prior work with Columbia Riverkeeper and the Columbia Gorge Ecology Institute. An avid mountain biker and trail runner, Kelly can often be found on the trails exploring Montana's beautiful mountain landscape when not in the office. Email Kelly at: "knokes 'at' wildearthguardians 'dot' org" or call: 406.209.9545.
Carol Norton, Associate Director, Santa Fe, NM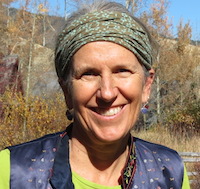 Carol Norton is WildEarth Guardians' Associate Director. Before coming to work at the Guardians, she spent over eight years working at Intel Corporation in Rio Rancho, NM in the information technology group as both a people and project manager. While there, she earned a Project Management Professional certification from Project Management International (PMI). Carol's other positions have included running a family software business with her father, doing sales support for Apple Computer, and project management for the National Indian Business Association. Carol graduated from Brown University with a degree in Biology. Then she worked for the National Park Service for a year before starting a career in the technology field. She gladly returns to conservation--her true calling. Carol has lived in the Southwest since 1989 and has worked on a variety of issues here including land use and wilderness designation. Carol is an avid backpacker, hiker, and runner, which she does with her dog Paz whenever possible. Read Carol's Staff Origin Story "Why I Am A Guardian". Email Carol at: "cnorton 'at' wildearthguardians 'dot' org" or call: 505.440.7158.
Jen Pelz, J.D., Wild Rivers Program Director, Centennial, CO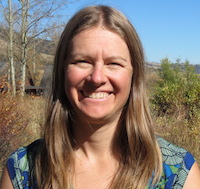 Jen Pelz joined Guardians in March 2013 as the Wild Rivers Program Director where she strives to breath new life into the endangered rivers of the West. Jen grew up in New Mexico exploring the mesas of Albuquerque, fishing and camping along the Pecos River and wearing her father's waders to fish the Conejos River near Platoro every summer. She received her B.A. in Field Biology from the University of Northern Colorado in 1998 and her J.D. and Certificate of Environmental and Natural Resource Law from the University of Oregon School of Law in 2002. Jen was a co-director for the 2001 Public Interest Environmental Law Conference and was a clinic student for the Western Environmental Law Center. Jen practiced law for seven years at a small private firm in Denver, litigating land use, public lands and water law cases. She loves spending time with her husband and two little girls, tending her organic garden, and (slowly) remodeling her 1964 ranch home. Jen lives with her family in Colorado. Read Jen's Staff Origin Story "Fighting for the Rio Grande". Email Jen at: "jpelz 'at' wildearthguardians 'dot' org" or call: 303.884.2702. You can also follow Jen Pelz on Twitter at @Jen_Pelz
Samantha Ruscavage-Barz, Ph.D., J.D., Senior Staff Attorney, Santa Fe, NM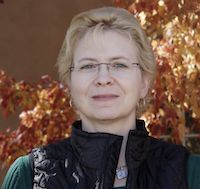 Samantha Ruscavage-Barz is a senior staff attorney for WildEarth Guardians. She received her juris doctorate from University of New Mexico School of Law in 2008, and her Ph.D. in Anthropology from Washington State University in 1999. Samantha joined WildEarth Guardians in 2010 after working as a staff attorney for Advocates for the West and a stint as a solo practitioner specializing in public interest environmental law. She focuses on curtailing fossil fuel development on public lands and protecting air quality. Samantha spent 17 years as an archaeologist in the public and private sectors before attending law school which led to her interest in advocating for and effecting protection of natural and cultural resources. Read Samantha's Staff Origin Story "A Voice for the Voiceless". Email Samantha at: "sruscavagebarz 'at' wildearthguardians 'dot' org" or call: 505.401.4180.
Sara Samovalov, Content Writer and Specialist, Portland, OR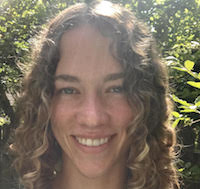 Sara Samovalov is WildEarth Guardians' Content Writer & Specialist. Born and raised in the Chicago area, she began searching out wild places within driving distance (and sometimes beyond driving distance) as soon as she received her driver's license. She attended college at Kenyon College in rural Ohio and then graduate school at Northwestern University, where she earned a master's degree in journalism. On a fateful vacation in September 2013, she fell in love with Portland (it must have been all the wild mushrooms growing near Mt. Hood), and three years later finally fulfilled her dream of moving to the Pacific Northwest. Outside of work, Sara can be found hiking, running, cooking, writing and playing music, and devouring the local food scene. Email Sara at: "ssamovalov 'at' wildearthguardians 'dot' org" or call: 503.313.1221.
Chris Smith, Southern Rockies Wildlife Advocate, Santa Fe, NM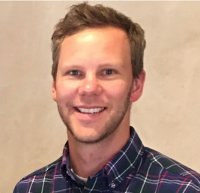 Chris grew up in the Sangre de Cristo Mountains from which he developed a rudimentary but deep appreciation for natural beauty and ecological function. He earned a B.A. from Lewis & Clark College in Portland, OR, where he then began working as an organizer and environmental activist. After earning an M.A. in Religious Studies from the University of Chicago, Chris returned to Oregon to advocate for coastal forests and the human and wildlife communities that rely on them. Thrilled to return to the high desert landscapes of his upbringing and to help protect the resilient wildlife of the area, he joined WildEarth Guardians in 2017 as the Southern Rockies Wildlife Advocate. Email Chris at: "csmith 'at' wildearthguardians 'dot' org" or call: 505.395.6177.
Rebecca Sobel, Senior Climate and Energy Campaigner, Santa Fe, NM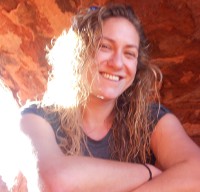 Rebecca Sobel is the Senior Climate and Energy Campaigner at WildEarth Guardians. The entirety of her professional career has been focused on social and environmental justice. Originally from Philadelphia, Rebecca feels blessed to call the Southwest her home. In 2006 Rebecca began working with Greenpeace as a Field Organizer, where she organized the March for Climate Action in Vermont with Bill McKibben. In 2007 she started with WildEarth Guardians as the Grassroots Director. After some time away, including a stint as the Executive Director of the New Mexico Coalition for Clean Affordable Energy, she came back to Guardians in 2016. Rebecca has an indefatigable passion for this work and brings a wealth of experience to our organization. Email Rebecca at: "rsobel 'at' wildearthguardians 'dot' org" or call: 505.216.6826.
Jodie Wheeler, Senior Accountant & Benefits Administrator, Santa Fe, NM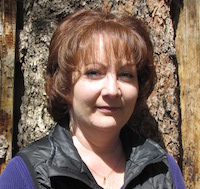 Jodie Wheeler is WildEarth Guardians' Senior Accountant & Benefits Administrator. Jodie is a Santa Fe native and started her accounting career while still in high school. She earned her Diploma in Accounting from Albuquerque TVI and brings 27 years of progressive accounting skills with her to WildEarth Guardians. Jodie enjoys camping with her family on the Conejos River, baking, reading, cross stitching, and volunteers regularly with the Santa Fe Public Schools. Email Jodie at: "jwheeler 'at' wildearthguardians 'dot' org" or call: 505.819.5911
Marlies Wierenga, M.S., Pacific Northwest Conservation Manager, Portland, OR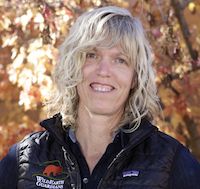 Marlies Wierenga is the Pacific Northwest Conservation Manager for WildEarth Guardians, serves under the Wild Places Program Director, and formerly served as WA/OR Coordinator for Wildlands CPR until their merger with WildEarth Guardians in 2013. Marlies has over a decade of experience using her technical, policy and public involvement skills to address watershed and water quality challenges throughout the Pacific Northwest. She has analyzed environmental conditions and developed numerous shoreline, watershed and water quality plans for local and state jurisdictions. Marlies has an undergraduate degree in Environmental Engineering from the University of Arizona and a Master's in Environmental Studies from the Evergreen State College, where her thesis analyzed the dual mandate of National Parks in Alaska to meet conservation goals and support the subsistence practices of local people (focus was Wrangell-St. Elias National Park). Email Marlies at: "mwierenga 'at' wildearthguardians 'dot' org" or call: 503.278.0669.
Stuart Wilcox, J.D., Staff Attorney, Denver, CO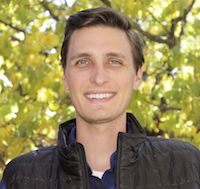 Stuart Wilcox is a staff attorney with WildEarth Guardians. His passion for wild places began early, with his childhood family vacations to national parks throughout the country and the countless hours he spent exploring the woods and creeks around his home. Stuart has worked for numerous environmental organizations with a focus on public lands and wildlife issues. In his spare time Stuart enjoys cliff jumping, hiking, snowboarding, and riding his bike through the city. Email Stuart at: "swilcox 'at' wildearthguardians 'dot' org" or call 720.507.1969.