Signup for our emails
Login

State-Wide Wilderness Proposal for National Forests in Utah
With an eye towards achieving WildEarth Guardians' (formerly Utah Environmental Congress in Utah) long-range vision for permanent protection of wild undeveloped landscapes repopulated with wolves and other big wild animals, we undertook the most thorough documentation and ground-truthing inventory of Forest Service roadless areas ever completed for Utah with the intent of crafting a highly defensible proposal for big Wilderness.
Roadless areas are those areas that, by Agency definition, are potential Wilderness areas that meet the basic criteria for wilderness set forth in the Wilderness Act of 1964. Using a conservative interpretation of the Agency criteria, after four years of detailed field work and 80,000 geo-referenced photo-points, WildEarth Guardians found that about 5.2 million acres of Forest Service land in Utah (out of a total of 8.2) still meet the basic wilderness criteria. This does not include the 775,000 acres of Forest Service Wilderness designated in 1978 and 1984. Combined, this would account for about ¾ of the total Forest Service land base in Utah.
Pink Cliffs/Table Cliffs Plateau Proposed Wilderness, Dixie National Forest.
photo credit: Kevin Mueller, WildEarth Guardians.
Instead of creating a wilderness proposal for all roadless areas in the state that ignored inconvenient problems ranging from binding pre-existing rights such as for mining to obvious management impossibilities with some of the roadless area boundaries, WildEarth Guardians scrutinized each area in detail, assessing the species richness, value of the wildlife habitat, relative threats (that wilderness designation would stop) to identify the areas legally available and most in need of Wilderness' protection.
Thousands of pages of data, maps, and permits were synthesized and summarized in light of detailed field work during a series of meetings open to anyone in the public. The result is our finely crafted Wilderness proposal that protects the most valuable and threatened wildlife habitats while also eliminating the majority of conflicts and improving overall manageability of the proposed wilderness boundaries.
The difference between the black and white bars (above) represents the almost two million acres of qualifying roadless land that WildEarth Guardians left out of the original 2004 National Forest wilderness proposal in efforts to focus protection on high-value wildlife habitat that is threatened, and to increase manageability, avoid conflicts with incompatible uses and valid sub-surface rights. The resulting proposal would result in about half of the Forest Service land base being designated Wilderness.
Updates; The Unified Wilderness Proposal for Forest Service Land in Utah
There have been refinements and improvements over the last decade. WildEarth Guardians has gathered input from all sides to improve our Citizen's wilderness proposal. Mapping technology has improved the proposal, but significant refinements have also been made as a result of a series of bottom-up Forest-wide revisions of Forest Service motorized road and trail systems.
We have been updating our boundaries in a unification effort with the Grand Canyon Trust, Wild Utah Project, and many other partners in Utah.
We encourage you to contact us and our partners so together we can incorporate your ideas in 2014 as the Unification effort progresses. We are continuously looking for new ways to protect the fragile, diverse National Forests in Utah, and we are confident that this proposal is the best starting point to gather support for this conservation vision.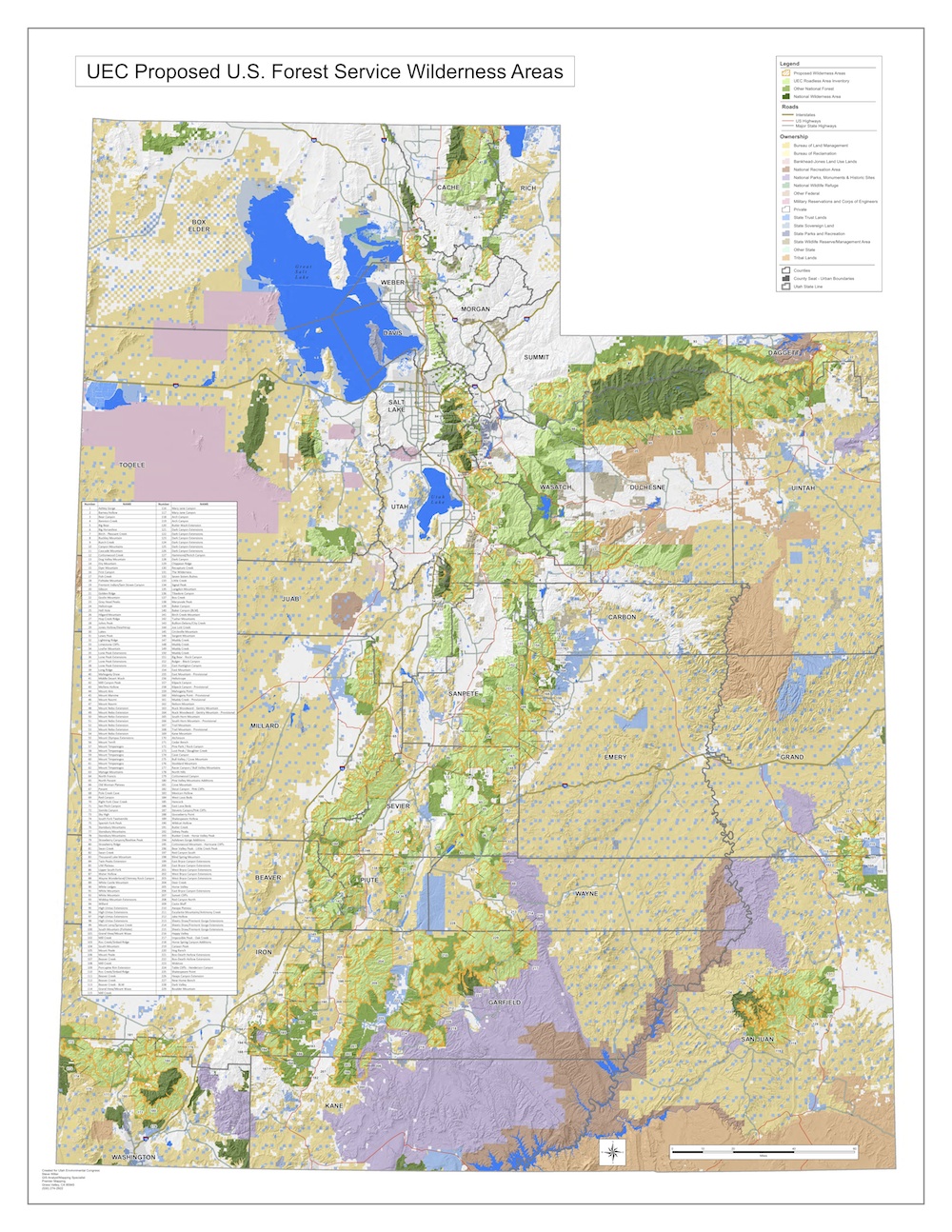 > Click map to enlarge view or click here to download the statewide map pdf.
Additional maps:
Please contact Kevin Mueller if you are interested in this project, are looking for more information or additional maps (kmueller@wildearthguardians.org or 801-466-4055).
To download the state-wide GIS layer, please click here. To be able to view GIS files you need ESRI GIS software. ESRI offers a free GIS reader for download here.